FAQs
How Off-Grid are the 4 tents?
We have a water supply which serve the bath, outdoor shower, 3 sinks & 2 flushing toilets in each tent. The tents are not connected to mains electricity, wifi, gas or sewerage (we have a septic tank). We also have Solar-Panels to charge power packs which provide limited lighting & USB charging but are dependant on the daylight hours & sunshine. We have gas bottles providing the outdoor showers, fridges and hobs with gas. We supply some wind-up lanterns, torches & solar powered lighting outside and inside. The tents have many windows and wide, glazed doors on the front to let the light in. The wood-burning water heater and stove also provide heating. Our tents are insulated from underneath and have an extra roof canopy to provide further shelter over the structure. We are designed to slow you down, things take longer & give you time to ponder! You are on holiday after all....
What happens if the battery pack provided runs out?
You will have no lights or charging facilities until you have recharged the battery pack via the solar panel the next day
Can we bring our dog or pets?
We are unable to accept any dogs or pets.
Do you supply towels?
Yes, included in the price, we supply soft white bath & hand towels and tea towels for your stay. However, they are not to be taken outside of the lodges, so please bring your own beach towels.
Do you charge extra for wood?
No, we supply all wood, briquettes & firelighters for the duration of your stay. We supply one bag of lump wood charcoal (more is available locally) to start you off if you choose to use the bbq.
Is there a hob?
Yes, we have fitted a two ring gas hob for that all important cuppa so you don't need to wait for the log burner to heat up in the morning.
Is there a fridge?
Yes, we have a standard size gas powered fridge. In addition we have a large chest cool box which is ideal for beverages if you buy some ice.
Can we bring our own disposable bbq, gas bbq, fireworks or candles?
No...in the interests of safety, the use of disposable or your own gas bbq's, Chinese lanterns, fireworks, real candles or any other naked flame is prohibited. We are constructed totally out of wood and canvas. We supply LED candles, lanterns etc. Each tent has a large kadai fire bowl which has a bbq rack and tripod for the warming pan. This fire bowl is also a wonderful campfire.
Can we smoke or vape in the tents?
Smoking or using e-cigarettes are not permitted either within the tent or on the deck.
Do you have any age restrictions?
We accept anyone from 0 years old to 110 years old! However, there must be a responsible adult over the age of 18 years residing in each tent each night.
Do you have a hot tub?
We do not have hot tubs as we are on a sensitive working farm and wish to protect the quality of the land by not releasing chemicals into the earth during cleaning processes. We do have a cast iron slipper bath in each tent where you can soak in a canvas sanctuary. The outdoor shower is fun too! If you really want to get soaked, water based activities can be found close by at Freshwater Bay.
Do you accept Stag & Hen Type Party Groups?
We are a boutique family glamping site so we do not accept Stag or Hen party type groups HOWEVER we will consider single sex groups on an individual basis so please email or call us for a chat.
Can we have food deliveries to site?
Unfortunately not...due to our location and in the interest of site security, we do not permit food deliveries. The private farm lane is narrow, without a turning point and needs to be kept clear at all times. There is a well stocked Tesco supermarket which is a 5 minute drive away or most other major supermarkets are represented on the island as are many independent local shops. We like to promote shopping locally.
Is there electricity?
No, we do not have any power sockets in our lodges. However we do have limited solar powered lighting & USB charging sockets for phones. We do not recommend charging video cameras, laptops etc as this will drain all of the stored power very quickly. It is a good idea to bring a back-up power pack per device so that you can cover yourself for an emergency.
Is there WIFI?
No, but all phone networks give good coverage in our area. Wifi is available locally.
We recommend that you read our terms and conditions for comprehensive information or contact us with any queries. We endeavour to make your stay with us as comfortable as possible, please let us know as soon as is reasonable if you have any problems. We aim to sort them out as soon as possible so that you can continue with your break.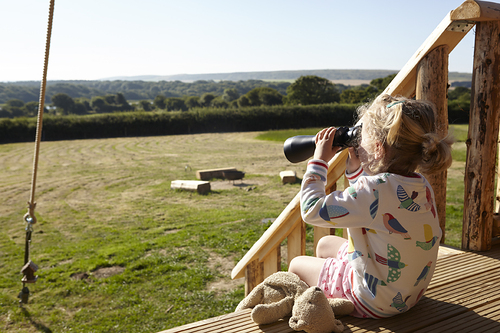 Big Binoculars - Big View!
A pair of safari tents in each meadow
Kadai Camp Fire & BBQ with tripod.