Five of The Best Free Holiday Kicks!
Watching The Sun Rise
We all watch the sun set regularly, but not all of us see it rise that often. This is why waking up with the sun is such a great thing to do. Everything is quiet and still, the early morning animals are out, the air smells amazing, the mist and early morning light across the river gives everything a fresh morning glow and being part of that magic, without having to rush anywhere, is simply a meditation. We love our location and know that you will too.
Night-Time Beach Running
Have you ever run along a sandy beach in the dark, whatever the weather? If you haven't then we can tell you wholeheartedly that it's one of the biggest free kicks you can get. The adrenalin gets pumping as you race along the sand and it's incredibly exhilarating but beware the incoming tide and random rocks that can soak you or trip you up! Check the tide times for Compton Bay.
Skinny Dipping
Find a secluded spot and without planning it or thinking about it strip off to what mother nature gave you and say hello to the elements. It might be a stream, the sea, a lake or a river, but it'll definitely be cold, invigorating, hilarious and totally amazing!
Playing In The Rain
The next time it rains, instead of hiding away inside, go outside and play in it. Make sure you get really, really wet, run a lot and laugh loads! Then have a long hot bath in our gorgeous roll-top bath.
Foraging For A Meal
This is a great way to get back to nature and increase your consumption of vitamins at the same time. But make sure you are certain of what you're picking and use a hand book to make absolutely sure. Always pick away from pollution, take only what you need and always cook with a huge smile and sense of satisfaction!
---
About The Author
Sarah Riley is the Founder of Inspired Camping and Inspired Courses and loves to take time outside with her family and friends as often as possible to boost her health and become inspired.
Isle of Wight beach. Image: Visit Isle of Wight
Glamping the Wight Way - campfire
Glamping the Wight Way - sunset on the balcony
Glamping the Wight Way - dining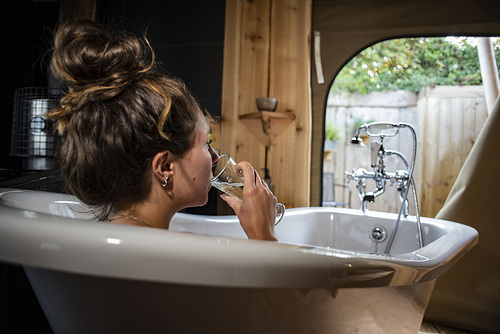 Glamping the Wight Way - Slipper Bath Sanctuary